83% of 9,253 teachers surveyed said that having real-time access to their balance and spending reports is useful.
The current National Average for new teachers leaving the profession within 5 years is at 40%.   Almost half of those that go into teaching leave after just 5 years in the profession.  Red tape and bureaucracy, having to spend out of pocket dollars for teaching supplies, a lack of trust and not feeling empowered are common reasons for teacher frustration.  Here at ClassWallet, we are working to solve this problem of teacher discontent by empowering teachers with a better way to get the resources that they need to be successful in the classroom.
"A 10% increase in trust has the same effect as a 30% increase in pay," Covey, Link, and Merrill.
How does this break down to what it looks like in the classroom?  If you have $9 per student allocated for class supplies in your principal budget, you make it available to teachers in a way that conveys trust and makes teachers feel empowered by having their own budget in a class wallet for their classroom.  Now you have just set up a teacher recruitment and retention strategy and started to create a culture of support and trust. This bolsters teacher morale and retention and gives you a competitive advantage in teacher recruitment and retention.
We put together the following visual to show how this works and the difference it makes to the teachers.  Empowering teachers with individual classroom budgets is a competitive strategy for recruiting and retaining teachers to keep them in the profession longer than five years.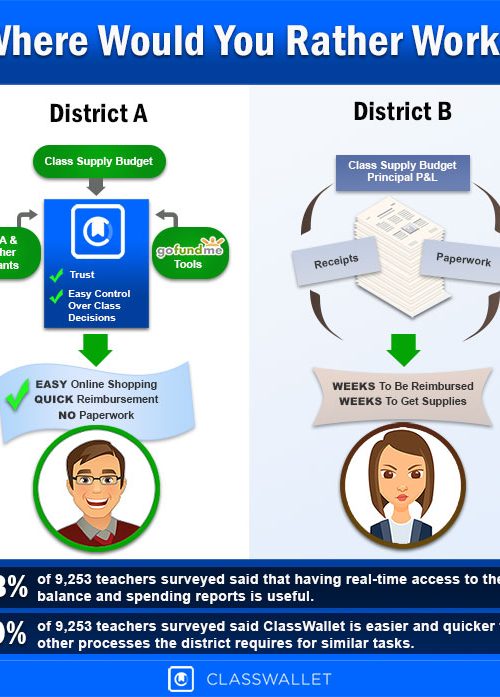 What do school administrators think of giving a class wallet to their teachers?  We leave you with a few quotes from school business officials so you can see for yourself.
Our educators get frictionless access to funds that allow them to stay focused on what's really important: teaching and learning.
Teachers get funding easily and can make purchases to support their classroom
No expense reporting needed on the teacher's end or on ours.
Reduces teacher time spent requesting educational supplies and equipment.
Not having to issue checks to each user and track receipts.
Provides accountability and flexibility all at the same time.
Less work on the bookkeepers.
Educators have spend flexibility, get purchases quickly, and are accountable with very little effort on their part.  We get detailed tracking of all the purchases.
I like best, I no longer have to request receipts from teachers.
Teachers have greater purchasing flexibility while we maintain control of the process and have excellent documentation.
Timely purchases for those that need it with ease of tracking expenditures and accountability for programs and grants.
Want to learn more?  Set up a call for a quick tour of how it works: https://calendly.com/mpage