From the CEO
Greetings,
It was a pleasant surprise to be featured in PaymentsSource, an online leading publication for fintech news. While we have enjoyed our growing presence in the education community, recognition of our technology among payments experts is a nice validation of our patented financial technology. In this remote work world we live in, convenience is key, paper receipts are out, and control and accountability are paramount. ClassWallet is filling a niche not met by current purchase card or expense management solutions. State and local education agencies don't have to sacrifice any control in order to afford teachers and parents a convenient, paperless payment tool.
Exciting News
ClassWallet Featured in PaymentsSource, Leading FinTech Publication
One of financial technology's leading news and information resources published a feature on ClassWallet. The article highlights that when the coronavirus forced teachers and students to move classroom learning online, many states and school districts turned to ClassWallet's innovative payments solution to streamline remote expense funding and tracking. Read the article.
ClassWallet adds Virtual Tutoring to Growing Lists of Available Services
More and more organizations are turning to ClassWallet to fund qualified families to supplement their children's education needs. Tutoring is among services highly desired and needed. To meet this need, ClassWallet added Varsity Tutors to its ecommerce marketplace. Varsity Tutors seamlessly connects learners to 40,000 experts in more than 2,500 subjects making it one of the country's largest online tutoring and live instruction platforms. Virtual tutoring services joins internet connectivity (hotspots) and PPE as resources newly available for purchase through the ClassWallet platform.
ClassWallet Expands in Idaho and Utah Districts and Charter Schools
Last month, ClassWallet welcomed a dozen new customers from Idaho and Utah. In Idaho, we welcomed the Twin Falls School District to the ClassWallet family. And in Utah, we welcomed Cache County School District and the following charter schools: Uintah and Uintah County School Districts and the following charter schools: American Academy of Innovation, Channing Hall, Excelsior Academy, Lumen Scholar Institute, Mountain Sunrise Academy, Salt Lake School for the Performing Arts, Summit Academy, Vanguard Academy, Voyage Academy and Winter Sports School.
Upcoming Events
Join Our Weekly Wednesday Webinar @ 1:30 EST and Get a $20 Gift Card
Every Wednesday at 1:30 EST, ClassWallet is hosting a virtual lunch and learn. Join us to learn more about why districts use ClassWallet for classroom expenditures, and get a $20 gift card sent to you so you.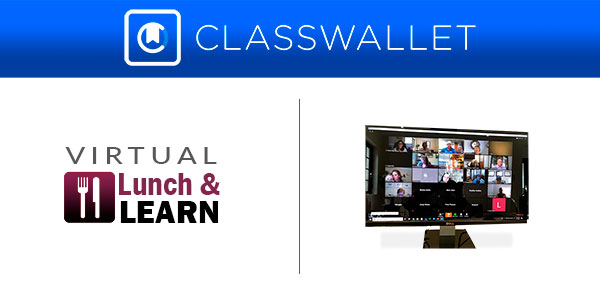 Click here to learn more and to reserve a spot: https://www.eventbrite.com/e/classwallet-weekly-wednesday-webinars-tickets-116627958363
Alabama ASBO Virtual Program - Morning Break Webinar
Tuesday, September 22, 10:00 EST, September 22
Lesley Bollendorf, CFO of Talladega City Schools and Corey Peebles, CFO of Tuscumbia City Schools discuss with ClassWallet CEO Jamie Rosenberg their switch from Pcards and purchase orders to ClassWallet to manage the legislative Classroom Instructional Support program funds. Find out why 1 out of 5 Alabama teachers use ClassWallet.
Join meeting here:
https://global.gotomeeting.com/join/748908077

You can also dial in using your phone:
(224) 501-3412
Access Code: 748-908-077
ASBO International Envision Virtual Conference
September 30 - October 2, 2020

ClassWallet representatives will be live online and ready to chat with you to answer questions during the conference. Register for ASBO International to learn more about how ClassWallet streamlines the manual, time-intensive tasks of collecting receipts and, reconciling invoices and statements for teachers and maintenance crew.

Click here to learn more and register for ASBO Envision 2020: https://s6.goeshow.com/asbo/annual/2020/index.cfm

ClassWallet addresses the pain of managing checks, reimbursements, paper receipts, and the paperwork associated with tracking expenditures for school systems. The platform makes the accounting and audit trail very easy and helps reduce administrative costs.

single-newsletters.php